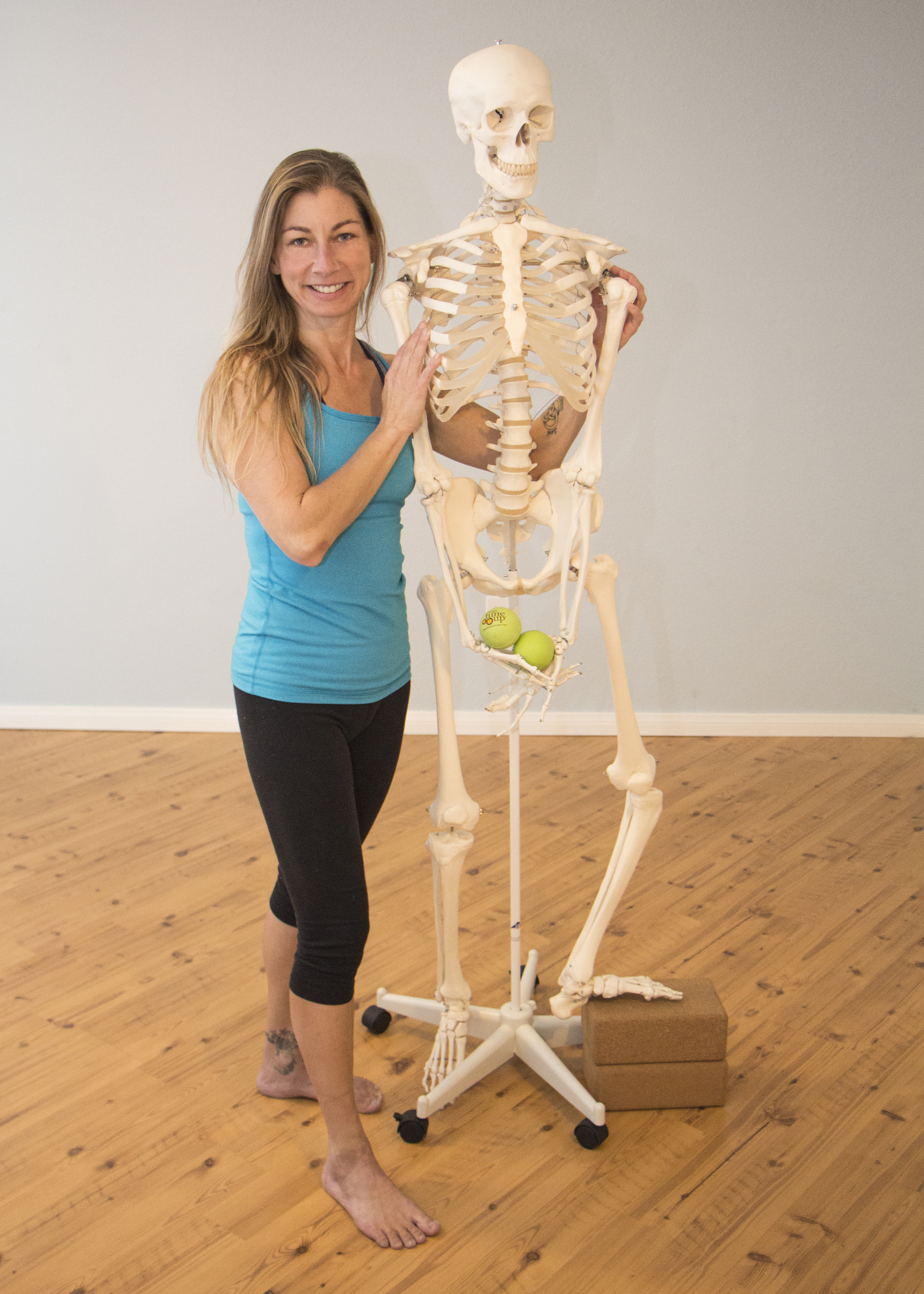 "There seems to be a misconception that you have to be "bendy" to practice yoga.

If you can breathe, you can practice yoga."
Be inspired to heal yourself through love, laughter, and courage.
Sam found yoga and massage when she was diagnosed with chronic fatigue and fibromyalgia in 1998.
Her practice began with Restorative Yoga and Yoga Nidra and brought her such incredible healing, she knew it had to be shared. As she began to recover, she began to study more and eventually was well enough to embark upon several training programs.
Sam's love of therapeutic yoga inspired her to open TheraYoga Studio, in Los Angeles Ca. From there she went on to develop the TheraYoga Method, which is not only a 200 and 300 hour teacher training, but also encompasses smaller trainings and workshops in Restorative Yoga, Mindfulness and Yoga for Special Conditions, Fascial Fitness in Asana and Yin Yoga.
Her approach combines Hatha & Iyengar yoga techniques & therapeutic applications with Restorative and Meditation practices, for a balanced and well-rounded experience.
Sam has trained under Judith Lasater, Kelly Wood, Russ Pfeiffer, Leeann Carey and Doug Keller. She is currently studying mindfulness and its effectiveness in working deeply with psychological attachment patterns.
She completed the 10 month Meaningful Life program, and intensive training on this subject in 2014, under the guidance of her teacher, George Haas, in Los Angeles. She weaves concentration, insight and metta into her trainings, workshops and private sessions and believes that the ability to stay present is the key to the power of self-healing and love.
She currently studies the Dharma with Joseph Goldstein, George Haas, Steve Armstrong and Vinny Ferraro (along with so many that have shaped her practice and heart).
What's Special About TheraYoga
"Sam is not only a knowledgeable, skilled leader and teacher, but her warm, positive nature is unmatched. She makes all of her students feel at ease in their own skin. I have had the pleasure of experiencing her as a teacher, mentor, body worker and employer and she has exceeded my expectations in every capacity. She is a true gem; when you work with Sam, you feel like you have hit the jackpot.
-Melissa Brooke, RYT200 and Restorative Yoga Teacher
"I thought I knew what yoga was. I was so wrong. Sam helped me understand that there was a different way, a deeper practice. If you are looking to hone your heart to see what lies in the center, this practice is your knife. And the journey is so indescribably worth it's while. With a whole heart I recommend without reservation Samantha Akers."
– Jack Kinne, Student
"It was such a wonderful surprise to be introduced to this wonderful type of healing yoga. Samantha truly has a gift for teaching and is very passionate about this practice. She supports a container which empowers her students to take the best care of themselves, so that they can take the best care of their yoga students and loved ones."

– Melanie Gingerich, M.S., CCC-SLP